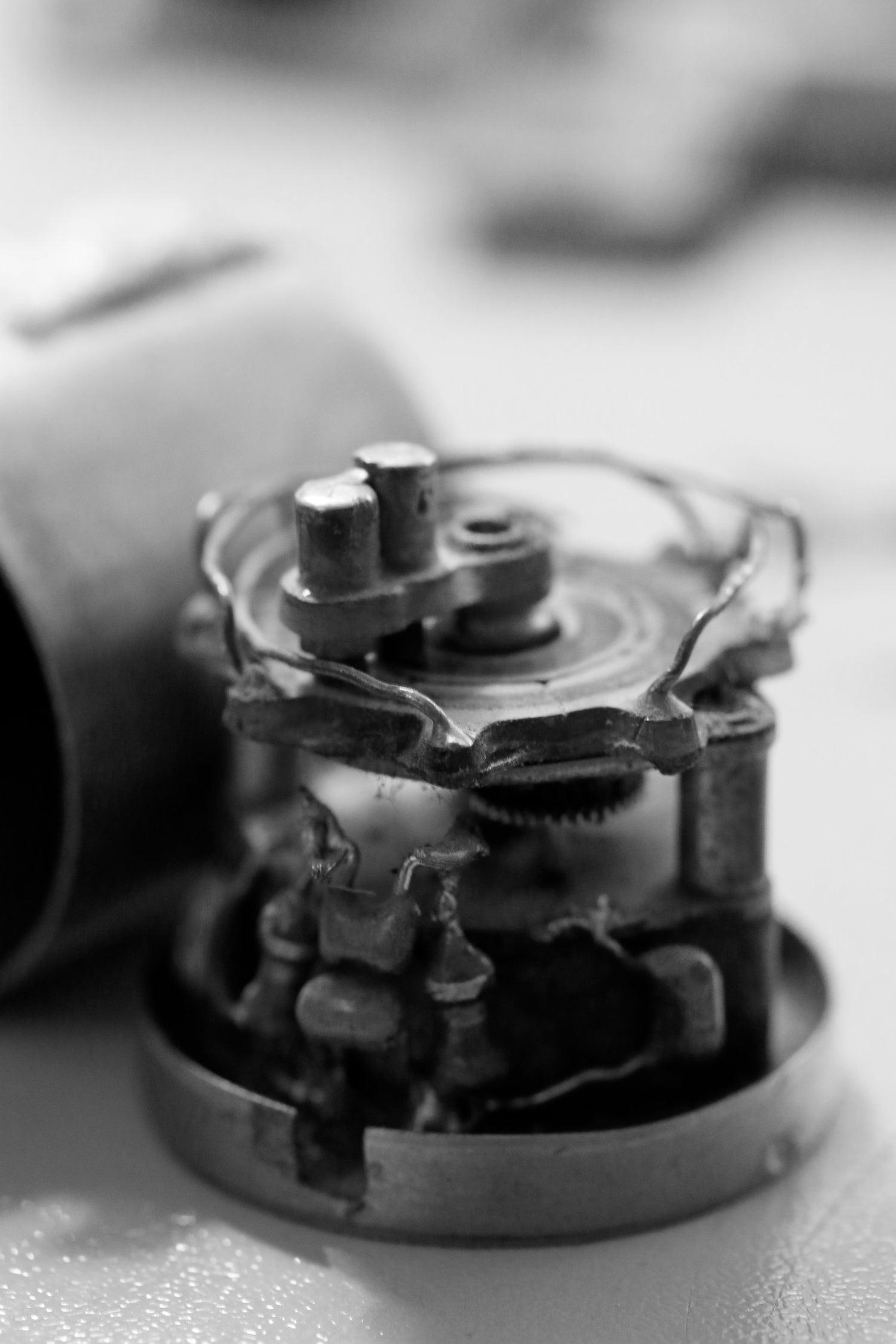 back in the days
It was during the exceptional period of time in Berlin when the Berlin Wall had just come down and the partially deserted borrows of the former eastern part of the city were spontaneously inhabited by a first wave of young creatives of all sorts and origins.
Living costs were extremely low and we all had plenty of time to follow our passions, realize our projects and live our dreams.
I was busy playing lots of music, doing a jewelry project with cut coins and also home-building my first ever guitar, an electric guitar.
In the process of developing the wiring for the guitar an idea entered my mind and soon after I found myself using my jewelry saw to cut a circular copper plate into eight segments. Those segments formed the contact surfaces to be touched by a rotating arm, providing the alternating pick-up sequence for the first prototype of what was soon called "Pickup Leslie", note the spelling ;). It was a motor driven, automated pickup switch for continuous switching with speed control. And although it somewhat suffered from noisy switching and audible electrostatic radiation from the motor, it did already sound pretty delicious.
Since the unit needs to tap into the individual pickup signals to do its thing, there was no way around building it into the guitar.
So to minimize the troubles, I encapsulated the electric motor and its switch plate into a metal encasing acting as a shield and enjoyed these early prototypes how they were, effective, fun, .. with the desire for further perfection in mind.
The effect served an extra layer of attacks, to the point of becoming a kind of metronome when playing alone, delivering a tremolo type effect, different from any existing tremolo because of its percussive and rhythmical aspect - produced by the rather square type switching between the pickups.
I figured to further improve this awesome little new find, I needed to look for help to realize an electronic version. Mainly to get rid of that motor inside my guitar :) And the first simple electronic versions soon came to life with a little help of a skilled friend.
Not much later I also became good friends with Frank Deimel. And it didn't take long until we started to collaborate on building electric guitars, brainstorming a ton around the concept of the experimental guitar and also of course around the Pickup LesLie. We kept on optimizing the electronic versions I had been playing around with. Plus, we found out that had we been born a few decades earlier, we would have needed to realize a mechanical "wind-up" version, running off a clockwork like spring mechanism instead of a motor.
Just imagine having to wind up your guitar before playing a show ;) 
After building guitars with Frank for a couple years I was drawn back to traveling and also back into more music making and becoming a sound engineer and I decided to hand Frank my sweet little invention for exclusive use at Deimel Guitarworks to help boost his brand until the day would come to launch LesLee as a stand alone product for existing guitars.
In the process Frank optimized and realized a nice electronically driven version and through the following years many of his customers have opted to have it built into their fabulous Deimel guitars. Go check them out on the Deimel Guitarworks website if you don't already know them ... they're truly amongst the best sounding and looking guitars on the planet.
Furthermore Frank and his wife Kora are currently experimenting with a revolutionary combination of the electric guitar and the modular synth, utilizing LesLee as the interface between the two ... a must see and hear, it's called the LesLee-Synchronizer!
The name Leslie got altered to LesLee® around the year 2002 when Lee Ranaldo from Sonic Youth bought a guitar through Deimel-Guitarworks that Frank and I had built in the late 1990's. It's a 12-string Jazzmaster type guitar with the effect onboard. Lee appreciates the fact that now the device is named "Pickup LesLee". And several X-rays of that guitar became the art work for Sonic Youth's "Corporate Ghost" DVD, released in 2004.
LesLee® achieves its effect within the concept of the electric guitar itself, utilizing the two native voices of the individual Pickups. All it takes to produce the distinct LesLee-tremolo sound is in theory continuous toggling of the pick-up selector switch. With LesLee® the switching is automated, optimized and made continuous. 
The images below show the first and second prototype. No.1 had graphite contacts in little tubes with push springs and for No.2 I tried double metal fingers to accomplish "make before break" in the fight against noisy switching.
those were the olden days ..
We jump to 2022 and the launch of the new Pickup LesLee®, which is an all new design, reduced in its size to fit existing electric guitar models and has grown into manifestation over the last 3-4 years of intense brainsstorms and tons of research and a whole bunch of gratitude for how some solutions were sent into awareness ;)
The motherboard is designed according to all needs & parameters by the genius Matthias Grob from Paradis Guitars, who listened to all my wishes and ideas and brought them into reality in the form of the current motherboard.
I can't thank him enough for his endless patience and brilliance and would always recommend him for guitar related electrinoc development projects as he has accumulated a wealth of experience in this field and an open mind for finding excellent solutions. On his website you can check out his many interesting effect units and instruments.
Thanks for taking the time to read,
Pascal